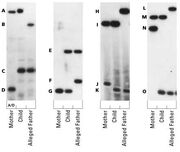 Genetic fingerprinting
(or DNA fingerprinting) allows for a species to be identified as accuratly as scientifically possible. 
In terms of evoultion, this type of testing allows for species to be identified as a new species, possibly re-classified, allows 
Recent news articles which have to do with genetic fingerprinting and evolution:
Leggless lizards found at LAX in October, 2013: http://articles.latimes.com/2013/sep/22/local/la-me-legless-lizard-20130923
The Velvet worm connects with its ancestrial species according to Live Science, September 2013:
http://www.livescience.com/39047-new-velvet-worm-species.html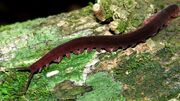 Section heading
Edit
.file://localhost/Users/sedell/Desktop/dnafingerprint.jpeg
Ad blocker interference detected!
Wikia is a free-to-use site that makes money from advertising. We have a modified experience for viewers using ad blockers

Wikia is not accessible if you've made further modifications. Remove the custom ad blocker rule(s) and the page will load as expected.