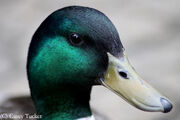 Genetic Introgression results in reproduction between two different, but related species (a.k.a. Hybridization).  The advantage to introgression is that it has the potential to introduce novel genes into a population, and these genes may be adaptive.  Likewise, introgression may be a source of speciation.
Mallard superspecies (Anas) and eight species of gulls (Larus genus) both form complex introgression amongst themselves respectively.
Literature
Edit
Rheindt, F.E. and S.V. Edwards. 2011. Genetic introgression: an integral but neglected component of speciation in birds.
Ad blocker interference detected!
Wikia is a free-to-use site that makes money from advertising. We have a modified experience for viewers using ad blockers

Wikia is not accessible if you've made further modifications. Remove the custom ad blocker rule(s) and the page will load as expected.