I hope these definitions help. I know they helped me during discussion 5 - human evolution!
hominoid 
Edit
hom•i•noid (ˈhɒm əˌnɔɪd) 
n. a member of the biological superfamily Hominoidea, including all modern great apes and humans and a number of their extinct ancestors and relatives taken from http://www.thefreedictionary.com/hominoid
hom•i•nid (ˈhɒm ə nɪd) 
n.
any of the modern or extinct bipedal primates of the family Hominidae, including all species of the genera 
Homo
 and 
Australopithecus.
 taken from 
http://www.thefreedictionary.com/hominid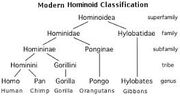 Ad blocker interference detected!
Wikia is a free-to-use site that makes money from advertising. We have a modified experience for viewers using ad blockers

Wikia is not accessible if you've made further modifications. Remove the custom ad blocker rule(s) and the page will load as expected.