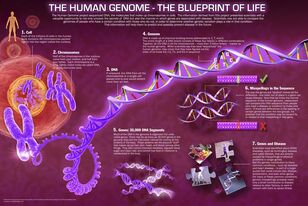 The Human Geniome Project (HGP), according to the National Human Genome Research Institute, "was the international, collaborative research program whose goal was the complete mapping and understanding of all the genes of human beings. All our genes together are known as our "genome."  The first draft of the HGP was published in 2001, with a finding of over  20,000 human genes. 
REFERENCES:
An Overview of the Human Genome Project. (n.d.). An overview of the Human Genome Project. Retrieved November 24, 2013, from http://www.genome.gov/12011238
Ad blocker interference detected!
Wikia is a free-to-use site that makes money from advertising. We have a modified experience for viewers using ad blockers

Wikia is not accessible if you've made further modifications. Remove the custom ad blocker rule(s) and the page will load as expected.