King Phillip Came Over For Good Spaghetti!
When thinking about evolutionary theory and how all living things are connected, it is important to show visual relationships between different species of organisms.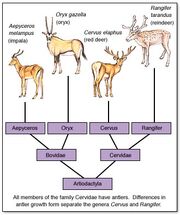 According to the University of California Museum of Paleotnology (2013), using trees for classification provides the user with the visual ability to see connections between evolutionary histories, common traits and characterists between species, and the general classification of living things.
So what does King Phillip have to do with phylogenetic trees?
It is an acronym for the classification system!
King - Kingdom
Phillip - Phylum
Came - Class
Over - Order
For - Family
Good - Genus
Spaghetti - Species
References: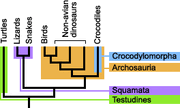 "Using the tree for classification." (2013). Understanding Evolution. University of California Museum of Paleotnology. 25 November 2013. 
http://evolution.berkeley.edu/evolibrary/article/evo_10
Ad blocker interference detected!
Wikia is a free-to-use site that makes money from advertising. We have a modified experience for viewers using ad blockers

Wikia is not accessible if you've made further modifications. Remove the custom ad blocker rule(s) and the page will load as expected.