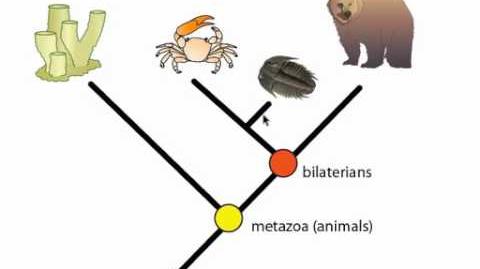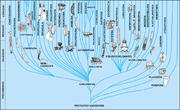 My Definition
Edit
history of genetics from generation to generation. Evolution is a process whereby populations are altered over time and may split into separate branches, hybridize together, or terminate by extinction. The evolutionary branching process may be depicted as a phylogenetic tree, and the place of each of the various organisms on the tree is based on a hypothesis about the sequence in which evolutionary branching events occurred.
Tree of Life
Edit
The website Tree of Life provides a wonderful illustration and explanation of phylogenyTree of Life.
A clade is known as a single branch on the "tree of life". the term was first used by Julian Huxley in 1957. It is a group consisting of an organism and all is descants, extinct and extant, that share a common ancestor.These groups are more closely related to each other than members of other clades, also known asmonophyletic .
CladogramThe red and blue boxes at right and left represent clades (i.e., complete branches). The green box in the middle is not a clade, but rather represents anevolutionary grade, an incomplete group,
Ad blocker interference detected!
Wikia is a free-to-use site that makes money from advertising. We have a modified experience for viewers using ad blockers

Wikia is not accessible if you've made further modifications. Remove the custom ad blocker rule(s) and the page will load as expected.