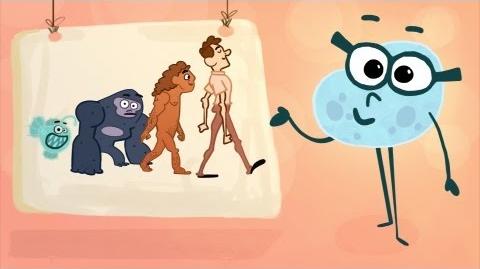 Misconceptions in science are beliefs that have no basis in real scientifc fact. Most misconceptions in evolution come from cultural or religious influences or faulty teaching methods. 
One of the most common student misconeptions in evolution is that "individual organisms can deliberately develop new heritable trais because they need them for survival".  34% of 6-8 grade students believe this about evolution. 

Test questions
http://assessment.aaas.org/misconceptions/ENM031/264
Elementary science teachers themselves may also have misconceptions about evolution and unintentionally pass thier misconceptions down to thier students.  The following website is a good reminder to teachers.
http://evolution.berkeley.edu/evosite/misconceps/index.shtml
American Association for the Advancement of Science (2013). AAAS science assessment beta. Retrieved from http://assessment.aaas.org/topics/EN#/ 
Scientific misconceptions
http://en.wikipedia.org/wiki/Scientific_misconceptions
Thought this was an appropriate quote to add in reagard to evolution, addressing student misconceptions and teaching.
"Biology is not a body of facts to memorize but a quest towards understanding, one that is ever changing and one that has roots not only in phenomena that we observe, but in the human world that shapes our concerns and questions."
Farber, P. 2003. Teaching evolution and the nature of science. American Biology Teacher. 65: 347 - 354.
Ad blocker interference detected!
Wikia is a free-to-use site that makes money from advertising. We have a modified experience for viewers using ad blockers

Wikia is not accessible if you've made further modifications. Remove the custom ad blocker rule(s) and the page will load as expected.